Well I've not posted on this blog before due to not really having much to show since I graduated from uni. I've been trying to earn some money which could help towards funding me while I maybe do some London job hunting but this in turn has caused me to have a bit of a creative crash, due to my current job requiring 0% creativity...
But never the less, I've got myself a website up and running
James-A-Garner.co.uk
and created this blog as oppose to continue using my old uni blog, so no followers thus far, but I thought it would be better to start a fresh.
Project wise I've started a few small bits firstly I started modelling my car (Toyota Starlet SR) way back in the day in my spare time while on my CG course, however looking back at it I decided to attack it but put a new spin on it and instead of modelling my old Toyota Starlet SR I decided I'd model my new Toyota Starlet Glanza V Turbo as it's far prettier.
But I put that on the back burner for a while and haven't touched it due to wanting something a bit more vast and environment based to occupy what little time I have spare when I'm not working.
So for a while I've been stewing on what the hell to make.
I decided this time around I don't want to pursue another transcription and would rather make something from off my own ideas.
I began thinking around stuff that might be quite kool to make from what I saw through the media etc. A few little ideas I came up with were stuff like a shipping dock, freight yard type thing or some kind of temple, castle or church, another idea that was floating around in my head was some kind of oriental Japanese village.
After pondering more I decided I wanted to do something a little older in style and move away from some more towards present day or futuristic. I just so happened to watch an episode of 'Time Team' on TV where they were excavating around the ruins of an old Welsh castle. I've always loved watching things like 'Time Team' where you're shown ruins and visualisations of what the ruins would have looked like back in their heyday.
This fuelled me to want to create some kind of ruins and I began thinking about having the ruins built over, but parts of the original structure could still be visible through the new building.
Yet more influence from TV this time brought about by watching the 1973 film 'Enter the Dragon' staring Bruce Lee. I hadn't ever seen it before but in the film an oriental Chinese dock is shown in a scene. With the dock from the film in mind (which at the time I thought was some kind of shanty town due to missing an establishing shot at the end of the scene)
The scene in question from 'Enter the Dragon'
I decided that the ruins of a Chinese fortress come temple come dojo would fit nicely into this rather poverty stricken shanty dock kind of idea. So I started looking into traditional Chinese and Japanese architecture, but I quickly found a lot of the extravagant building I'd wanted to form my base were mainly made from wood and therefore would not stand the test of time like stone would. Also with the image I had in my head, I didn't feel the Chinese fortresses would not fit the scene I was trying to create.
Chinese Fortresses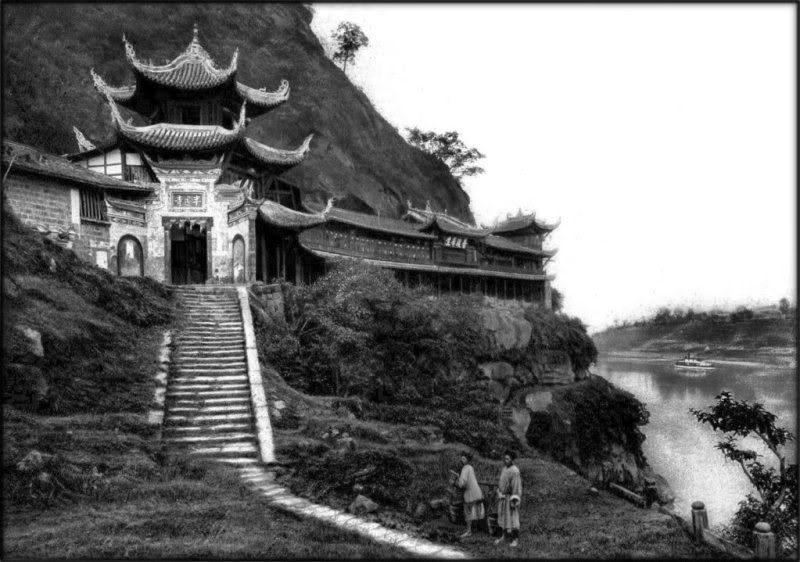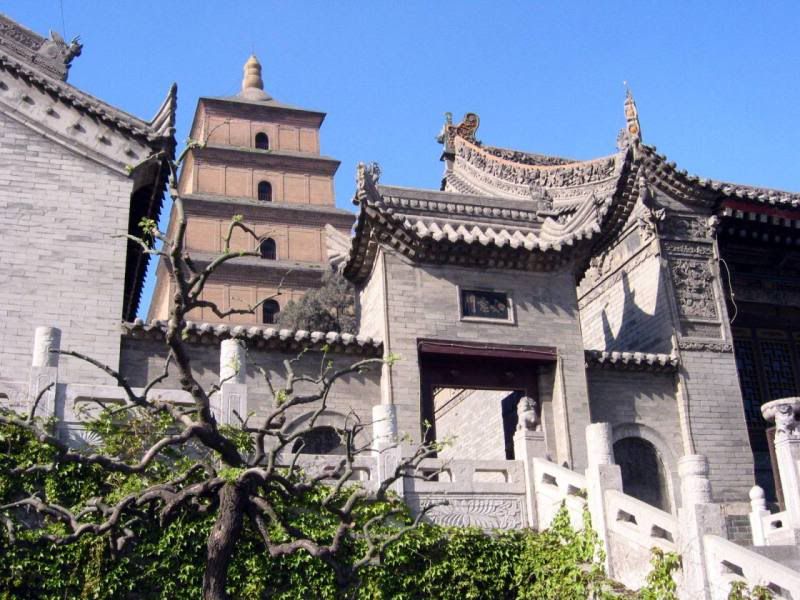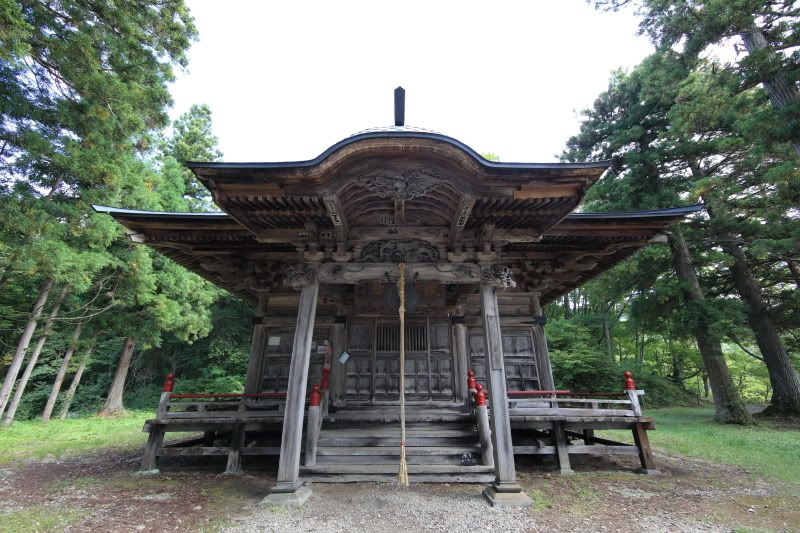 Back to thinking about the shanty town I wanted to have built over the ruins, the fact I didn't realise what I thought to be houses were actually ships in the scene I'd seen in 'Enter the Dragon'. I began thinking about how to integrate a village into the water, most obviously having buildings built on stilts above the water. I'd seen this on adverts for tropical get-aways and I think I'd seen Vin Diesel chilling on one which was supposed to be in Fuji, in the film xXx (Triple X) or something like that.
I did some research into the huts on stilts type and came up with some resource material to base my shanty type buildings around.
Various 'Huts on stilts' style villages etc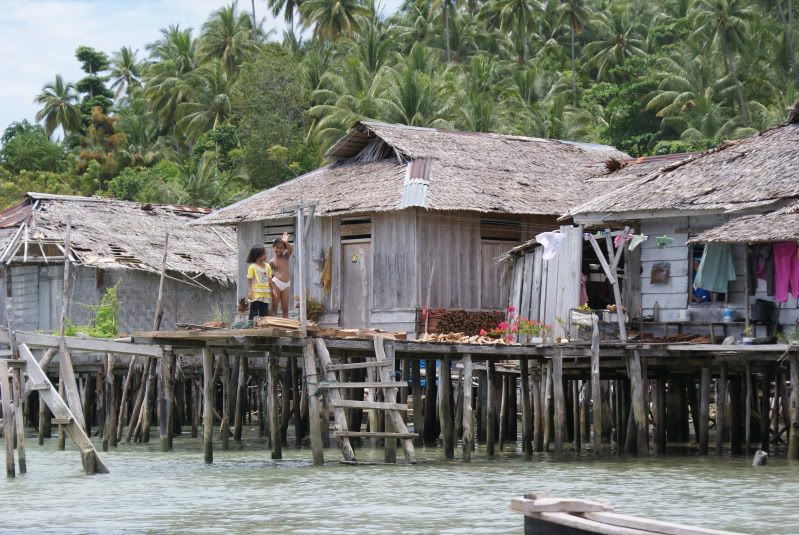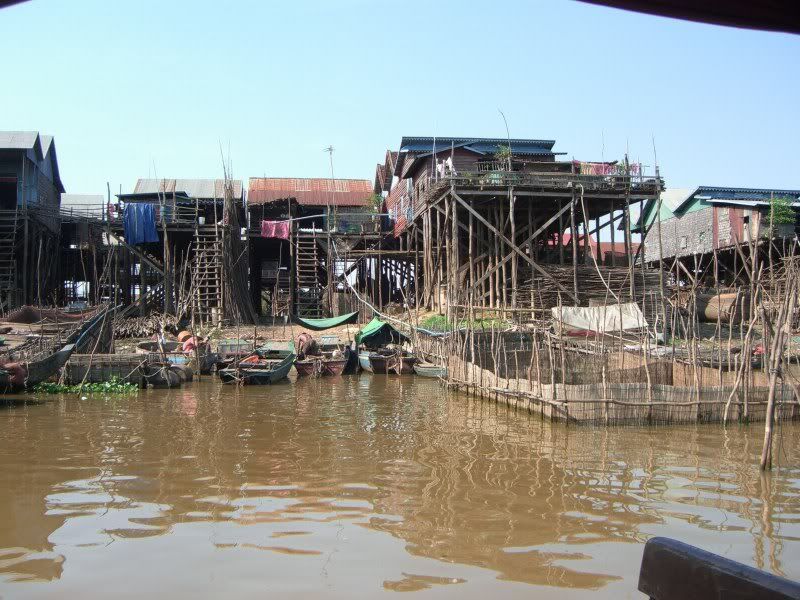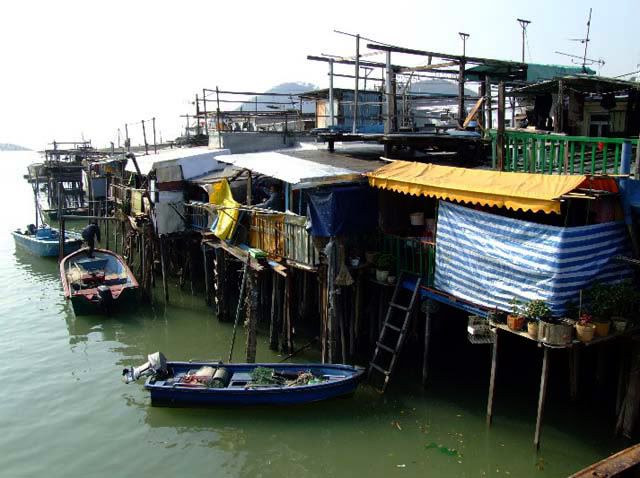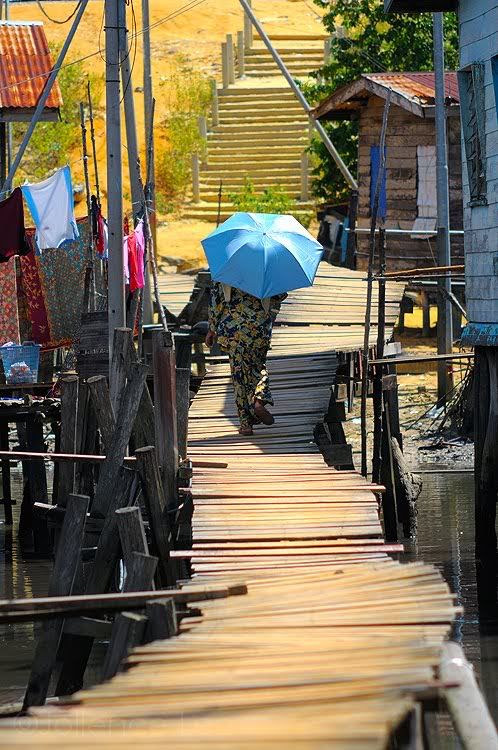 However I still couldn't shake the tropical paradise style routes which I had connected with them in the first place. So I began thinking maybe a more Easter Island style tropical beach would be more fitting. I now started thinking how the ruins which had now become half buried in not just the shanty style town, but now the sea as well would have got there.
Most plausible explanation for the being submerged under the sea is rising water levels, and considering the nature of many small tropical islands, having the island as a volcanic island that erupted in the past destroying the town below seemed to fit quite nicely to.
With the fact that this shanty town was beginning to move away from being a shanty town n more towards some kind of tribal village i decided to look into tribal villages and architecture to help inform my buildings.
Tribal Buildings
Traditional Lahu house Chiang Mai, Tailand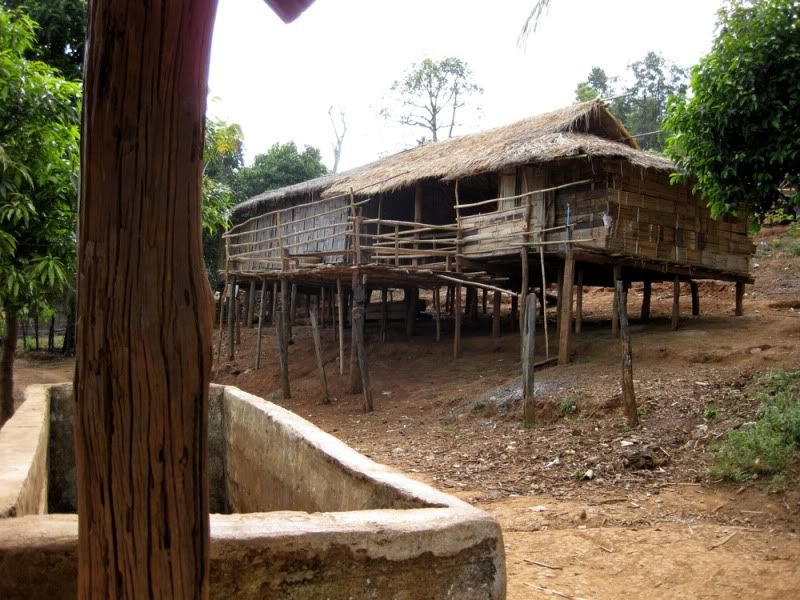 Apatani Tribal village of Hijja, Arunachal Pradesh, India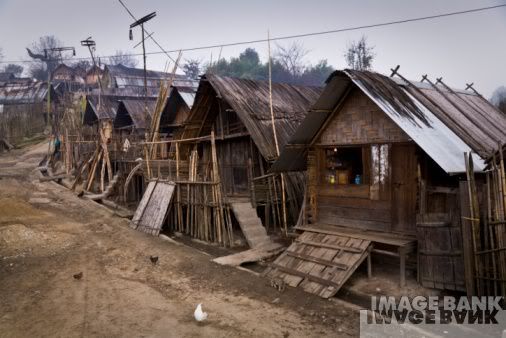 Tribal home featuring satellite dish Pleiku, Vietnam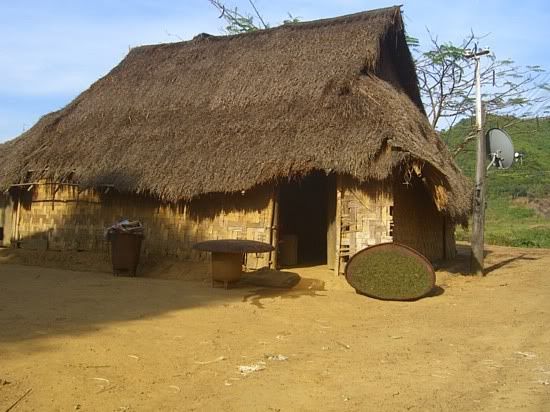 Toba Batak house Ambarita, Indonesia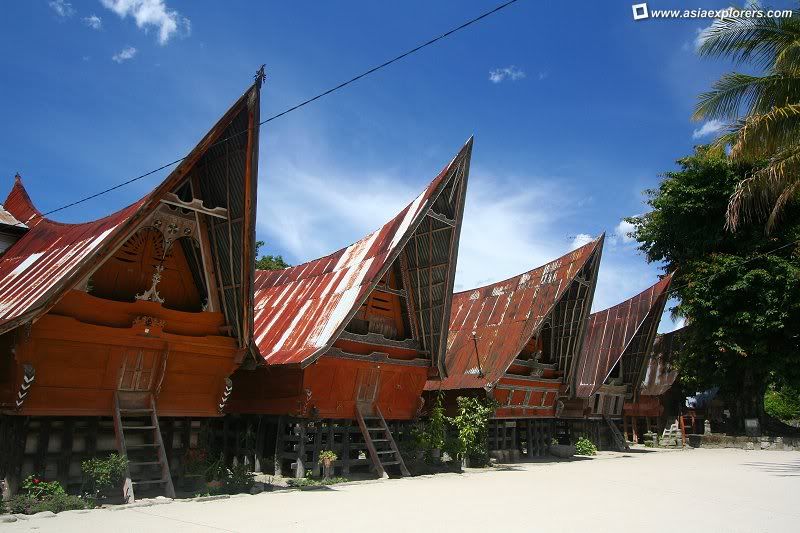 Then here's a couple of examples of African architecture
My only worry with where this project happened to be going was it was nearing an environment from 'Final Fantasy X' with the whole tropical beach village type thing that it had going on.
Kilika Village from Final Fantasy X
However just because someone's done something similar doesn't mean I can't still go with my idea, although because of this it made me feel like I had to make come together. With this in mind I started to look at volcanic eruption impact a little which brought me up on the idea of black sand. At first I was rather against it, as it seemed to ruin the idyllic setting, but then I began to think it would add to the over-all piece giving it more or an intriguing side to it
San Juan Parangaricut Church in Mexico after being buried in a lava flow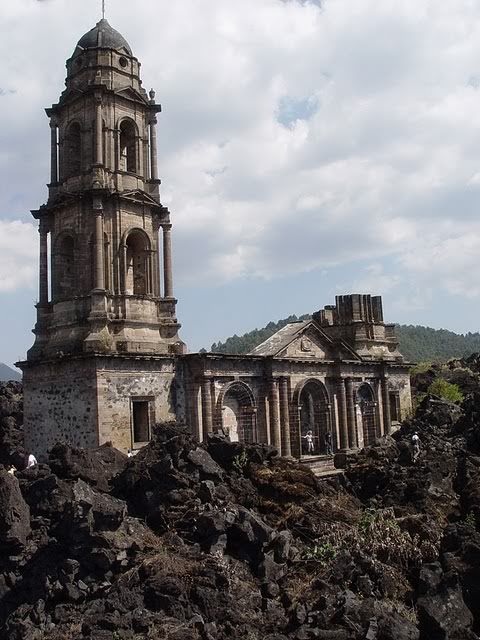 Years later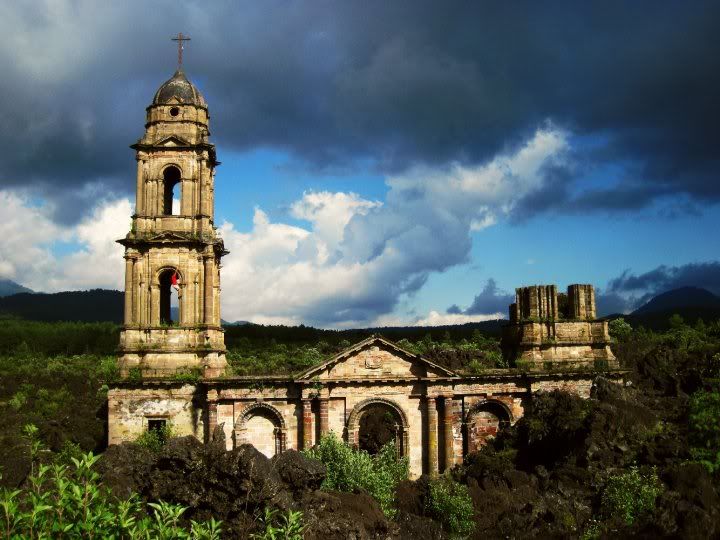 Cagsawa Church bell tower, in Alby, Philippines.
When the local volcano erupted the local residents went to seek shelter in the church and were promptly entombed in it when lava buried all but its bell tower.
The ruins of a Greek Monastery, Cleopatra/Manastir Bay, Turkey
A Black sand beach caused by volcanic rock, Kamchatka, Russia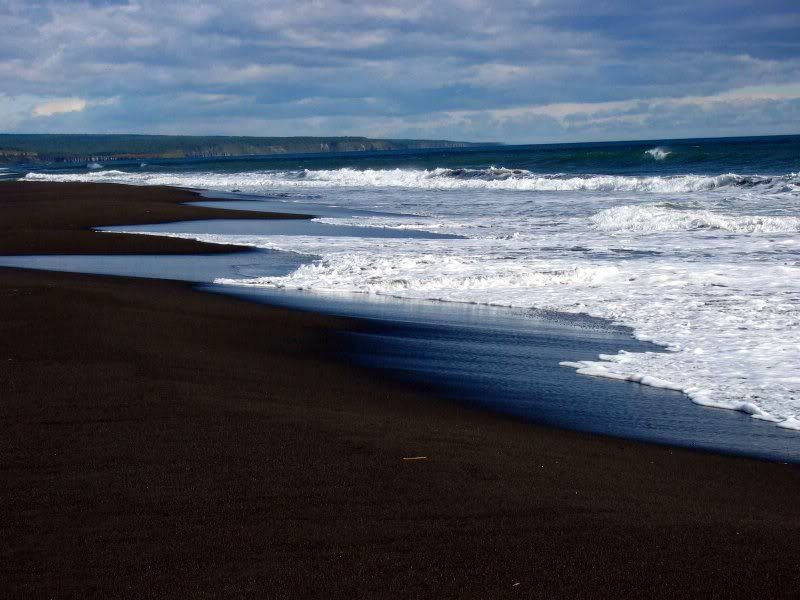 Interesting sand with a mix of black and white sand combine in a pretty pattern
At this point I'm beginning to think that I need to move away from the Chinese/Japanese architectural influences that the project began with and replace them with something more fitting to the volcanic tropical kind of backing.
So sitting down for dinner as you do, I gazed up at a picture on the wall of my dining room at a picture looking out across 'Santorini, Greece'. The picture showed a simplistic bell tower type structure overlooking the town and sea, and I thought to myself perfect! The style looked simple enough as I didn't want anything to extravagant because it would have been weathered and I wanted to keep an amount of it intact as oppose to making it purely ruined so it retained a nice form.
So away I went looking into Greek architecture trying to resist the draw of the ancients such as the Pathanon.
And here's a few nice examples I found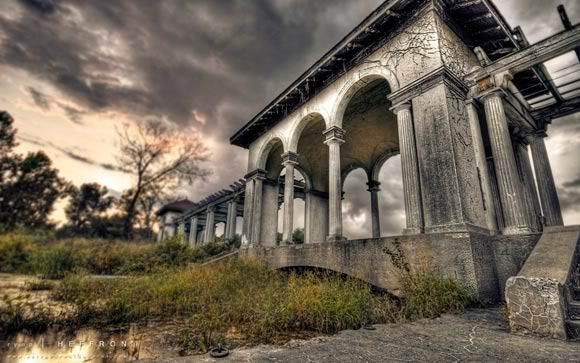 Santorini, Greece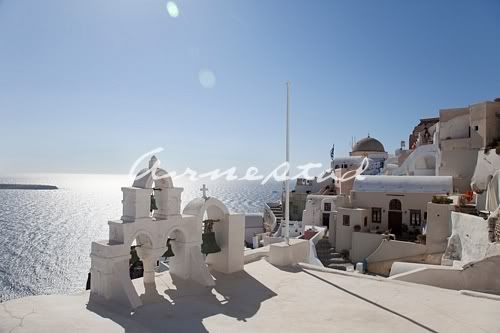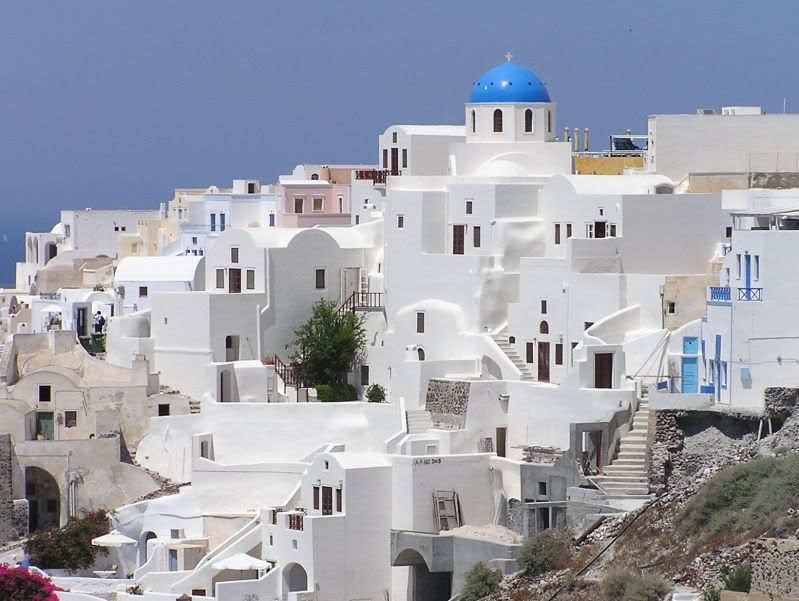 And this was just pretty kool, An underwater pyramid off the Mexican island Cozumel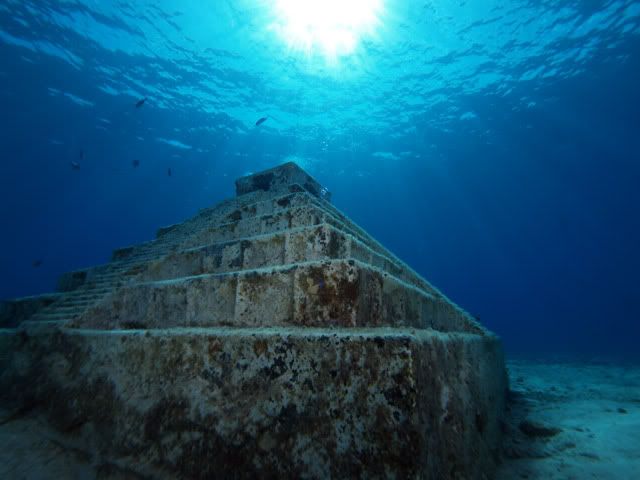 So that's me done for now I'm going to get on with some sketching and concept stuff n I'll post that lot up as soon as I've got something to show!